For BMW 5 Series G30 530i 530e 540i M Sport M550i Carbon Fiber Rear Bumper Diffuser Valance Lip
Regular price
Sale
$ 746.12
Sale price
$ 592.89
Couldn't load pickup availability
Are you the enthusiast seeking a refined aesthetic and aerodynamic design? If yes, let's do the ultimate upgrade to your BMW G30 M Sport 5 series.

This M Performance carbon fiber rear diffuser will captivate a dynamic look on your BMW 5 Series G30 (530i, 540i, 530e) M Sport M550i Pre-LCI. Our carbon rear diffuser is made with the best material to withhold against road debris and sun damage as best as possible. This diffuser features a 3K twill weave that will nicely match any other carbon fiber parts you have on your car from Ahacarbon. And it's coated with a UV protectant clear coat to retain its look from the moment you get it and prevent it from fading! This carbon fibre BMW rear diffuser showcases a gloss carbon finish that captivates a modern aesthetic on your BMW 5 Series for a signature appearance on every occasion.

This carbon fiber rear diffuser for BMW G30 M Tech is backed by our fitment and quality guarantee to ensure that this product is going to fit well and hold its quality. Every BMW 5 Series diffuser is quality checked before it leaves our facility to ensure you get a product free of defects. The diffuser is a direct replacement for the factory plastic diffuser, installation is an easy bolt-on application process, however, professional installation is recommended.

Choose Ahacarbon carbon fiber bumper diffuser for your G30 M Sport M550i carbon fiber needs and receive a product you can be proud to install on your vehicle.
Fitment:
Model: for BMW 5 Series G30 (530i 530e 540i) M Sport M550i Sedan
Year: 2017 2018 2019 (2020) (Pre-LCI)
Note: Not for BMW G30 Base Models
Important Notices:
Pls check the above fitment information or send us car pictures to verify before order, thanks a lot!
If your car has a rear sensor door, please order it prudently, the function of sensor may be blocked after the product is installed.
Features:
Material: Quality 3X3 weave carbon fiber
Functions: Light and durable, create a new iconic look, enhancing the aerodynamic performance of the car
Processing: 3D design, CNC moulding, test installation on real car, fitment guaranteed
Surface finish: Double layered UV-Protected clear coating, shining and smooth surface
Packing: Multilayer protected export carton, shockproof and crashproof
Installation: Replacement style, self-tapping screws are included in the package. Recommend professional installation
RELATIVE CARBON FIBER BODYKITS FOR YOUR BMW G30 M SPORT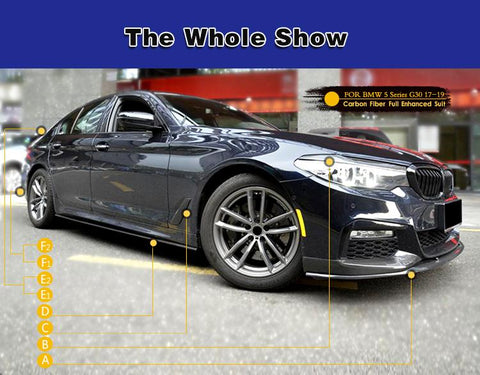 Q: What is Carbon Fiber?
A:Carbon fiber is a cutting-edge material, which is currently used in aerospace, military and high-end racing manufacturing. The integration of carbon fiber into today's various performances and luxury cars will soon create fanatical fans for this space age material
Q: Where are Ahacarbon Carbon's products made?
A:The All of Ahacarbon Carbon's products are made in our Chinese factory.In fact, most carbon fiber products come from China, but most of them don't admit it because they are local distributors.Our factory is the largest manufacturer of carbon fiber products in China
Q: Where do our parts ship from?
A:Some of our products are shipped from California, and some will be shipped directly from our China factory. However, this does not affect our after-sales service, and we will provide you with after-sales service that exceeds any similar company
A: What are DRY and WET Carbon Fiber?
Q: Of the many different terms associated with carbon fiber, the terms "dry" and "wet" carbon fiber may cause the most confusion. Each type has its own set of advantages and disadvantages, but understanding the differences will help lead you toward making a better-informed decision about which to choose for your needs.
The terms "dry" and "wet" in carbon fiber refer to how the product is produced or manufactured. Each has its own unique approach, but the result is actually quite different in terms of weight, strength, and other factors.
A:What is Dry Carbon Fiber?
Q:Dry carbon fiber is formed by using a pre-preg or impregnated piece of carbon materials. This piece of carbon is first placed into a mold, and then into a sealed vacuum to properly cure. This particular method creates the least amount of waste and forms a lighter version of carbon than the "wet" method. The vacuuming process of making dry carbon means that there are fewer pinholes and almost no air pockets that form in the carbon. Dry carbon is the highest quality version of carbon fiber products that are produced.
However, it is 3 to 4 times more expensive to produce than its counterpart.

Advantages of Dry Carbon Fiber
40% of steel weight
2 times harder than steel
Superior manufacturing process
Uses a dry finish for enhancing its cosmetic appearance
Disadvantages of Dry Carbon Fiber
.Almost four times as expensive to produce
.Will fade if not adequately maintained



Q:What is Wet Carbon Fiber?
A:Wet carbon fiber uses a different method of manufacturing. In this process, the carbon fiber is laid out by hand into a mold using a dry cloth. Then, a mixture of two parts resin, and one part carbon is put together and applied to the cloth before being placed inside a bag and heated in a vacuum. Due to this method, carbon fiber weaves are far more affordable.
However, wet carbon fiber is subject to having more air bubbles which can create weaknesses, and wavy fiber weaves which are less consistent that the dry counterpart. Because it is far less expensive to create carbon fiber using the wet method, most carbon fiber parts are created "wet".

Advantages of Wet Carbon Fiber
.Far cheaper to produce, meaning a less expensive product
.Has a very shiny, wet appearance which can be attractive
Disadvantages of Wet Carbon Fiber
.Weaker and heavier than its dry counterpart
.Will fade unless properly maintained
Feel free to contact us with any questions
Phone:
US : +1 (619) 3934556
CA : +1 (778) 8250200
Email :
 michael@ahacarbon.net
At ahacarbon, we understand that the quality of carbon fiber products matters. That's why we have a team of experts who meticulously inspect every item before it ships out to you. Unlike other companies, we don't compromise on quality to save costs. All of our products are made with top-grade carbon fiber materials, ensuring maximum durability and an exceptional finish. We are committed to delivering consistent, high-quality products to our customers every time, and we stand behind our work with a satisfaction guarantee. Trust us to elevate the look of your vehicle with our premium carbon fiber exterior additions.