Ahacarbon carbon fiber Side Skirt Extensions for BMW 2 Series F87 M2/M2C Coupe 2016-2020, to match the carbon fiber front lip or rear diffuser you have on your F87 M2 M2C.The carbon side skirts are made up of lightweight and strong carbon fibre and reinforced with a glass fibre composite. The skirts once made is then finished off in a high gloss lacquer, after which the carbon is hand and machine polished then sealed in with very high quality double layered anti-UV clear coat wax, to give both depth and protection. For the BMW 2 Series F87 M2/M2C Coupe side skirts these are a direct fit with no modification required. These carbon fiber side skirt extensions lip can be easily mounted to your existing side skirts for a subtle CF exterior appearance addition. Installation can be done within an hour, simply clean the underside of the side skirt and then is completed with the supplied hardware. We still recommend professional installation for any carbon parts.
Fitment:
Model: for BMW 2 Series F87 M2/M2 Competition (M2C) Coupe
Year: 2016 2017 2018 2019 2020
Pls check the above fitment information or send us car pictures to verify before order, thanks a lot!
Features:
Material: Quality 3X3 weave carbon fiber
Functions: Light and durable, create a new iconic look, enhancing the aerodynamic performance of the car
Processing: 3D design, CNC moulding, test installation on real car, fitment guaranteed
Surface finish: Double layered UV-Protected clear coating, shining and smooth surface
Packing: Multilayer protected export carton, shockproof and crashproof
Installation: Self-tapping screws and tape are included in the package. Recommend professional installation
RELATIVE CARBON FIBER BODYKITS FOR YOUR BMW F87 M2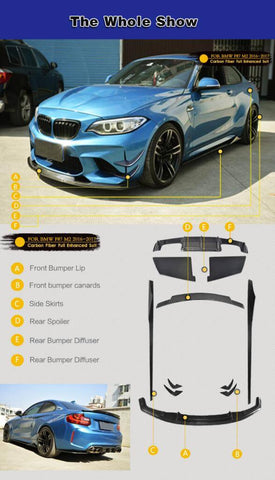 make-bmw,make-bmw-model-f87,make-bmw-model-f87-year-2016,make-bmw-model-f87-year-2016-body-m2-base-coupe-2-door,make-bmw-model-f87-year-2017,make-bmw-model-f87-year-2017-body-m2-coupe-coupe-2-door,make-bmw-model-f87-year-2017-body-m2-base-coupe-2-door,make-bmw-model-f87-year-2018,make-bmw-model-f87-year-2018-body-m2-base-coupe-2-door,make-bmw-model-f87-year-2019,make-bmw-model-f87-year-2019-body-m2-competition-coupe-2-door,make-bmw-model-f87-year-2020,make-bmw-model-f87-year-2020-body-m2-cs-coupe-2-door,make-bmw-model-f87-year-2020-body-m2-competition-coupe-2-door,make-bmw-model-f87-year-2021,make-bmw-model-f87-year-2021-body-m2-cs-coupe-2-door,make-bmw-model-f87-year-2021-body-m2-competition-coupe-2-door