Ahacarbon carbon fiber rear bumper diffuser for Audi R8 V8 V10 GT Spyder Coupe Convertible. This diffuser is crafted from genuine 3x3 carbon fiber that will nicely match any other carbon fiber parts you have on your car from Ahacarbon. This carbon fiber rear diffuser for Audi R8 is backed by our fitment and quality guarantee to ensure that this product is going to fit well and hold its quality. The diffuser is a direct replacement for the factory plastic diffuser, no modifications are needed and is a quick and easy install, simply unbolt your factory diffuser and mount ours using the self tapping screws included. Professional installation is still recommended. Our carbon fiber Audi diffuser will fit 2008-2015 Audi R8 V8 V10 GT Spyder Coupe Convertible 2-Door. To ensure that the diffuser has a nice sheen and does not fade we complete the rear diffuser with our high quality double layered anti-UV clear coat to ensure that this product will not fade or discolor over time. Choose Ahacarbon carbon fiber bumper diffuser for your Audi R8 carbon fiber needs and receive a product you can be proud to install on your vehicle.
Fitment:
Model: for Audi R8 V8 V10 GT Coupe Spyder Convertible 2-Door
Year: 2008 2009 2010 2011 2012 2013 2014 2015
Pls check the above fitment information or send us car pictures to verify before order, thanks a lot!
Features:
Material: Quality 3X3 weave carbon fiber
Functions: Light and durable, create a new iconic look, enhancing the aerodynamic performance of the car
Processing: 3D design, CNC moulding, test installation on real car, fitment guaranteed
Surface finish: Double layered UV-Protected clear coating, shining and smooth surface
Packing: Multilayer protected export carton, shockproof and crashproof
Installation: Replacement style, self-tapping screws are included in the package. Recommend professional installation
RELATIVE CARBON FIBER BODYKITS FOR YOUR AUDI R8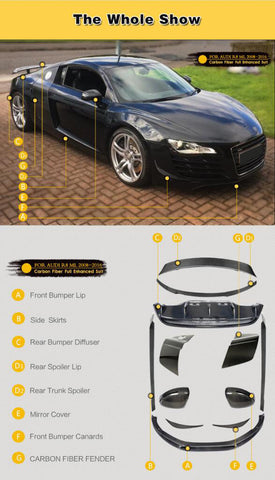 make-audi,make-audi-model-r8,make-audi-model-r8-year-2008,make-audi-model-r8-year-2008-body-base-coupe-2-door,make-audi-model-r8-year-2009,make-audi-model-r8-year-2009-body-base-coupe-2-door,make-audi-model-r8-year-2010,make-audi-model-r8-year-2010-body-base-coupe-2-door,make-audi-model-r8-year-2011,make-audi-model-r8-year-2011-body-base-convertible-2-door,make-audi-model-r8-year-2011-body-spyder-convertible-2-door,make-audi-model-r8-year-2011-body-base-coupe-2-door,make-audi-model-r8-year-2012,make-audi-model-r8-year-2012-body-gt-coupe-2-door,make-audi-model-r8-year-2012-body-base-convertible-2-door,make-audi-model-r8-year-2012-body-spyder-convertible-2-door,make-audi-model-r8-year-2012-body-base-coupe-2-door,make-audi-model-r8-year-2012-body-gt-spyder-convertible-2-door,make-audi-model-r8-year-2014,make-audi-model-r8-year-2014-body-base-convertible-2-door,make-audi-model-r8-year-2014-body-spyder-convertible-2-door,make-audi-model-r8-year-2014-body-plus-coupe-2-door,make-audi-model-r8-year-2014-body-base-coupe-2-door,make-audi-model-r8-year-2015,make-audi-model-r8-year-2015-body-base-convertible-2-door,make-audi-model-r8-year-2015-body-spyder-convertible-2-door,make-audi-model-r8-year-2015-body-plus-coupe-2-door,make-audi-model-r8-year-2015-body-base-coupe-2-door,make-audi-model-r8-year-2021,make-audi-model-r8-year-2021-body-performance-convertible-2-door,make-audi-model-r8-year-2021-body-spyder-coupe-2-door,make-audi-model-r8-year-2021-body-spyder-convertible-2-door,make-audi-model-r8-year-2021-body-performance-spyder-convertible-2-door,make-audi-model-r8-year-2021-body-performance-coupe-2-door,make-audi-model-r8-year-2021-body-base-coupe-2-door